Today, the latest version of TachoScan Control 4.0.15 was made available and can be downloaded from our server at: tachoscancontrol.com/en/download/
In the new version of the software, the following significant changes were introduced:
New options for choosing a language along with matching relevant tariffs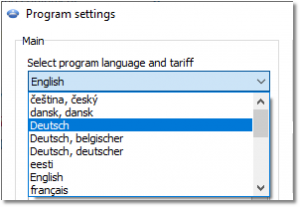 Check import from TachoScan Control Mobile and the option to choose the location of the import file was added
Language-specific changes:

A Belgian tariff was added for German and French language
The German tariff was updated
For the Danish language: the Tariff was updated and a new roadside check report was prepared
A "Mezinárodní lineární doprava SOD CSPSD" report was added for the Czech language
A detailed list of all changes can be found in the document below:
If you are upgrading from version 3.x or lower during the first launch of the latest version, automatic activation to the latest version of TachoScan Control 4.0.15 is performed, therefore it is recommended to do the first launch with an Internet connection active. If the internet connection is not available, it will be necessary to contact our service department in order to perform manual activation.
If there are any problems with the update or activation of the software, please contact the Service Department at +48 33 496 58 72 or at serwis@inelo.pl.