The newest version of TachoScan Control 6.4.1 is now available for download directly from our server at tachoscancontrol.com/en/download_/ or through the Update Manager.
The update is free for all holders of TachoScan Control with active warranty.
The following major changes are introduced in the new software version:
Two new language settings: Italian and Dutch (with support of Belgian tariffs)
Support for negative time zones from UTC-1 to UTC-5
Other changes in scope of the mobility package:

All options concerning the "Mobility Package" are now grouped in the analysis settings (menu: Settings -> Analysis settings -> Analysis)
New option of "Treat 9/11 h rest as a part of compensation for double shortened rest"
Option checked – the software does not require two shortened weekly rests in scope of extra daily rest (9/11 h) before compensation
Option unchecked – the software requires two shortened weekly rests in scope of extra daily rest program (9/11 h) before compensation

Country-specific changes are introduced for Sweden and Czech Republic.
Numerous other convenient functions are also introduced, including display of full country and region names in charts, suggestions of the 5 countries most frequently chosen for purposes of road card creation, display of inserting and removing cards from the tachograph in charts, changes in saving default settings. You can read about all of them in the detailed list of changes: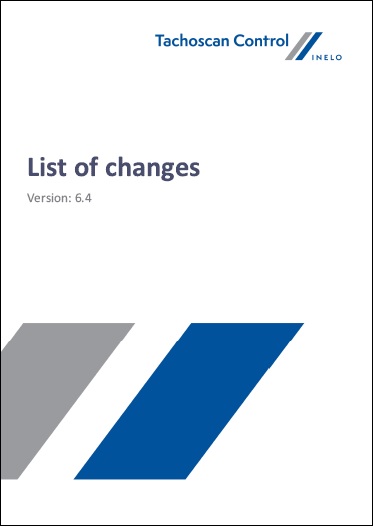 You can also access the detailed list of changes in the software's help menu (Help menu -> help -> newest updates).
If you are upgrading from version 3.x or lower during the first launch of the latest version, automatic activation to the latest version of TachoScan Control 6.4.1 is performed, therefore it is recommended to do the first launch with an Internet connection active. If the internet connection is not available, it will be necessary to contact our service department in order to perform manual activation.
If there are any problems with the update or activation of the software, please contact the Service Department at +48 33 496 58 72 or at serwis@inelo.pl.